Arizona State Law Journal Banquet
Each year, the Arizona State Law Journal holds a Banquet in the Spring to acknowledge the accomplishments of all Journal members, honor a distinguished Journal alumnus, and celebrate with various members of the Phoenix legal community.
Please join us for the Arizona State Law Journal  2018 Awards Banquet, honoring Scott Rhodes, General Counsel for Jennings Strouss Attorneys at Law, and Recipient of the 2018 John S. Lancy Distinguished Alumni Award.
Wednesday, April 4, 2018, 5:30 P.M. – 9:00 P.M.
Beus Center for Law and Society, Room 544
111 East Taylor Street, Phoenix, Arizona 85004
For ticketing and sponsorship information, please see the 2018 Banquet Invitation or contact Mikaela Colby, Mikaela.Colby@asu.edu, (480) 492-4915.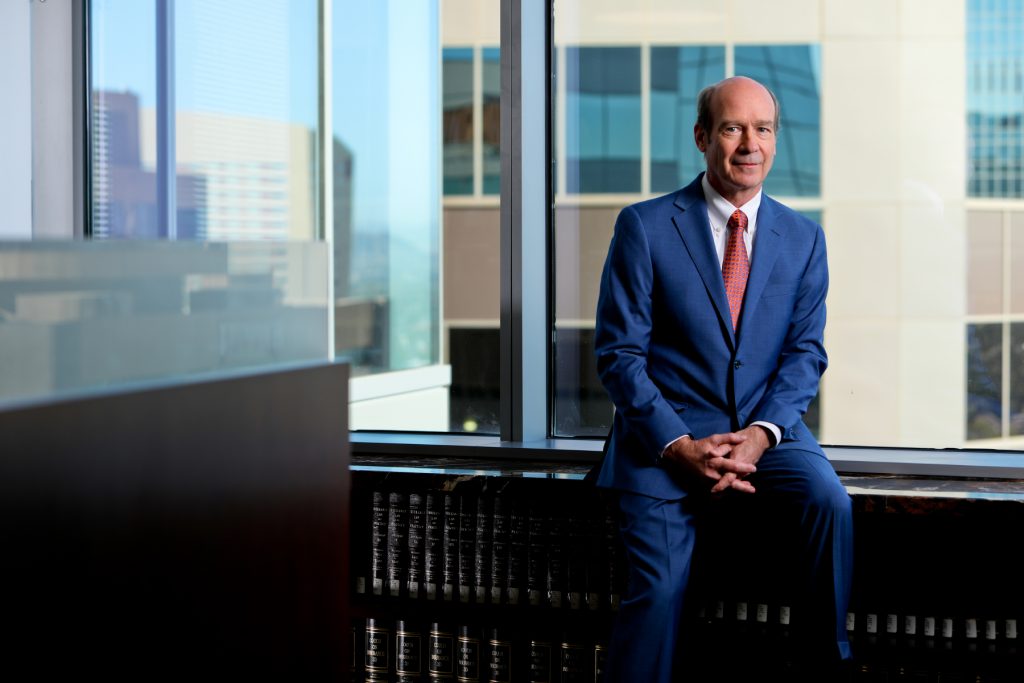 Thank you to our 2018 banquet sponsors
Gold Level
Silver Level
Bronze Level
John S. Lancy Distinguished Alumni Award
The John S. Lancy Distinguished Alumni Award is presented to Journal alumni who have demonstrated a standard of selfless integrity, humility, and charity in the legal field that warrants the recognition and acclaim of their peers.
John S. Lancy was the Arizona State Law Journal's first Editor-in-Chief in 1969–1970, selected by the Faculty Board of Editors. Additionally, he was a member of the founding class of the Sandra Day O'Connor College of Law.
After law school, John went on to serve as a law clerk to the late Judge James Carter of the United States Court of Appeals for the Ninth Circuit. He then practiced and served in a number of areas of the law, including Real Estate, Corporate Law, and in-house counsel and Vice President for Western Pacific Airlines. In 1998, John returned to private practice at Quarles Brady Streich Lang. 
Tragically, John's life was cut short in October, 2001, after a twenty-month battle against brain cancer. He was just fifty-six years old. 
John Lancy was quite passionate about the law, as well as the Law Journal. He believed the law helped to serve our society and to make the world better by providing society with guidelines and policies. He felt that law journals could improve the overall quality of law and should be dedicated to serving their communities. It was John, along with then-Dean Pedrick, that came up with original name "Law and the Social Order" as a commitment to encompass the philosophies in its title into the subsequent written material. 
John was dedicated to creating a journal of the highest quality, to shine the light on the high quality of this new law school in the desert. During John's tenure as Editor-in-Chief, everyone on the Law Journal had a sense of mission. What they were doing was more than a writing exercise for law students; it was the creation of a legacy that endures to this day. 
In the year of John's passing, the Arizona State Law Journal implemented a vision of inaugurating an annual Alumni Award in his honor. Each year, we continue that vision by recognizing another outstanding member of our ranks with the John S. Lancy Distinguished Alumni Award, and in so doing, we pause to remember John Lancy, an accomplished lawyer, leader, entrepreneur, mentor, father, and friend.