By Hanna Reinke.
From the early months of 2020, COVID-19 has wreaked havoc all across the world. In September, the United States alone surpassed a staggering 200,000 deaths related to the virus. While public health experts continue to work feverishly to implement policies that will not only slow COVID-19's spread but also overhaul how healthcare is addressed amid pandemics, their proposals have faced pushback. In May, the Wisconsin Supreme Court struck down an emergency stay-at-home order which resulted in subsequent legal challenges to similar orders nationwide. Protests broke out in Michigan when absentee voting was expanded to avoid potential COVID-19 exposure at polling places. Litigation arose in Florida over the constitutionality of county-wide mask mandates. Thankfully, some policies have been more successful. Particularly, alterations to the Health Insurance Portability and Accountability Act (HIPAA), and Medicaid and Medicare regulations have allowed for increased administration of health care via telehealth methods. Arizona has taken advantage of some of these changes, expanding telehealth capabilities and hopefully signaling a transition to easier health care access moving forward.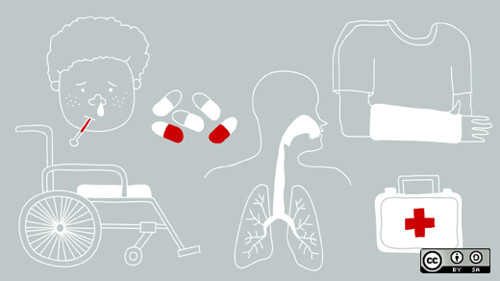 HIPAA Alterations Amid COVID-19
HIPAA was originally enacted in 1996 with the purpose of providing greater autonomy for patients wishing to access and share their private health information. Soon thereafter, the HIPAA Privacy Rule was adopted in 2000 to create stronger safeguards for patient privacy when health care providers (HCPs) handle personal information. During COVID-19, both of these have been subjected to temporary waivers to accommodate public health experts' and HCPs' efforts to combat the virus.
HIPAA's treatment of patient data disclosures has been altered, now allowing covered entities to provide patient information to public health authorities (e.g., CDC, local health departments) without receiving patient authorization. Notably, the data must be limited to that which is necessary for such authorities to "carry out their public health mission." Therefore, information collected during a routine screening may still be protected, while a positive COVID-19 test result can be passed along to CDC and entered into a national dashboard to analyze COVID-19's spread.
With health conditions restricting many people's ability to travel for medical treatment, HIPAA regulations have also been eased to accommodate telehealth practices. For the time being, the Office of Civil Rights will not impose violations against HCPs who "in good faith provide telehealth using non-public facing audio or video communication products, such as FaceTime or Skype, during the COVID-19 nationwide public health emergency." Importantly, this waiver applies regardless of whether the treatment is related to a COVID-19 diagnosis. While allowing these additional multimedia technologies for medical treatment may not be permanent, the waivers are going a long way to support struggling patients amid the pandemic.
The Centers for Medicare & Medicaid Services (CMS) Provide Additional Guidance
At the federal level, CMS has also taken steps to increase health care access for beneficiaries during the COVID-19 pandemic. The CMS website specifically notes that, currently, Medicare beneficiaries can initiate telehealth visits from their own home and still receive coverage—something that was not possible prior to COVID-19. Pursuant to the Coronavirus Aid, Relief, and Economic Security (CARES) Act, CMS has authorized audio-only telehealth services, waiving the previous video feed requirement. Greater deference is also given to certain HCPs (e.g., occupational therapists, physical therapists) to deliver more comprehensive assessments during visits. These federal actions have set the stage for states to enact their own policies to make telehealth more accessible for citizens.
Arizona Responds to Federal Telehealth Waivers
In light of these temporary waivers, Arizona has taken several proactive measures to make it easier for those in the state to access health care. On March 25, 2020, Arizona Governor Doug Ducey's Executive Order 2020-15 went into effect, requiring "all health insurance plans regulated by the Arizona Department of Insurance" to provide coverage for all telehealth services that would be otherwise covered through in-person visits. Additionally, insurers were mandated to reimburse telehealth services at the same level of payment as those provided in-person. The order further directs other state agencies to take action in compliance with the federal waivers and guidance.
In particular, following Governor Ducey's order, Arizona's Medicaid program, Arizona Health Care Cost Containment System (AHCCCS), updated its website with a Q&A-structured list of telehealth updates affecting beneficiaries. Throughout the COVID-19 pandemic, AHCCCS will be covering "all forms of telehealth services including asynchronous (store and forward), remote patient monitoring, teledentistry, and telemedicine (interactive audio and video)." Previously, coverage would be limited to telehealth services administered from specific locations such as hospitals or clinics; however, now AHCCCS will not restrict remote services based on the provider's location. In fact, following CMS authorization, AHCCCS has also allowed beneficiaries to receive telehealth care from providers enrolled in other states' Medicaid or Medicare Agencies. Other notable changes allow HCPs to refill controlled substances, meet with new patients, and obtain verbal consent, all via a qualifying electronic medium.
Moving Forward
COVID-19 has undoubtedly revealed deficiencies in the way health care is administered in the United States. Hospitals have been filled to the brim, HCPs have been shuffled around the country to address COVID-19 hotspots, and private company production plants have been converted to produce personal protective equipment. While allowing for expanded telehealth services will not quell all of these issues, it is a step in the right direction towards ensuring access to critical health care services, not only amid a pandemic but in the many years to follow.